GONZALO GONZÁLEZ: AUTHOR OF 'BROTE', FESTIVAL IMAGE.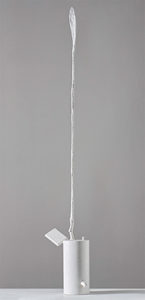 This festival image is part of the work of sculptor Gonzalo González. The sculpture focuses on the expressive and symbolic possibilities of vegetal elements. Its name is 'Brote' (Bud) and since 2009 is received by awarded directors in this film event.
This year, 'Brote' is photographed by Efrain Pinto and designed by Mojo Estudio.
Gonzalo González is one of the Canarian creators with a most consolidated trajectory and within his generation, the most internationally. Painting, drawing and sculpture are the disciplines which has devoted more attention.
He is creator of a powerful work, inserted in the vanguard that emerged from great European romantic lineage.
Landscape, vegetal forms, architectures or sky are in the middle of a work characterized by a huge technical competence and a rare ability to question about the true nature of reality in dialogue with different visual languages.
He has exhibited in many art galleries in the Canary Islands, Iberian Peninsula, Europe and America. First class cultural institutions have his works in their collections.